Cornish Cross
SKU CC4
Product Details
ABOUT:
These broilers are top of the line when it comes to being efficient meat producers. Chicks are yellow in color. Both males and females are white in color as adults. In just eight weeks the live weight of males will reach approximately 10lbs and females approximately 8.25lbs. The average feed intake per bird is just 17.5lbs over the period of eight weeks. Approximately 25% of the live weight is breast meat. Approximately 13% of the live weight is thigh meat. Approximately 10% of the live weight is drum stick meat. Overall, an eviscerated bird should average 75% of the live weight. These birds are not bred for egg production; therefore, we do not suggest ordering females with the expectation of them laying eggs.
Recommended Feeding Instructions:
Start them on a 20-22% Chick and/or Broiler Starter for the first 4.5 to 5 weeks.
Switch them to an 18% Chick Grower after that time.
Feed them around the clock for the first 5 days of age. After day 5 only feed during daylight hours. No feed for 12 hours. Water is okay to leave with them.
At 6 weeks of age males should weigh about 6lbs and females 5lbs. If you desire a larger bird they may be raised up to 9 weeks of age with males weighing about 10lbs and females 8lbs.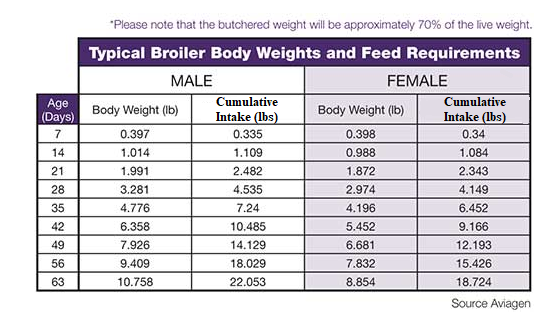 Save this product for later